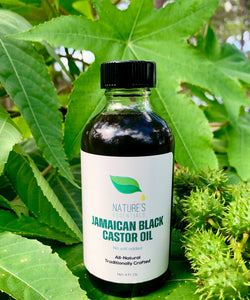 We are pleased to announce that we carry AUTHENTIC, hand-boiled, Jamaican Black Castor Oil!!! 
We have personally met and spent time with the Outa Earth family, visited their production center, farm, and home. We are elated to work with Outa Earth to provide you with authentic Jamaican Black Castor Oil, STRAIGHT FROM JAMAICA!!!
Outa Earth Black Castor Oil is Certified by the Scientific Research Council, the Bureau of Standards Jamaica, and is the ONLY Black Castor Oil to bear the Jamaica Made Mark of Quality and Authenticity. This company is a Small family owned business focused on producing natural Jamaican products which support small farmers and the unemployed. They are committed to protecting Jamaican products and traditions. Outa Earth encourages a holistic, sustainable lifestyle that fully supports "made in Jamaica" indigenous products, RESPECT FOR THE EARTH and support for the efforts of the small man. This is underpinned by the fact that over sixty small urban and rural gatherers covering six parishes regularly earn a direct income from their eco-friendly operations.  They are also sincerely committed to preserving the traditional methods of production of this oil by using a minimum of machinery, in honour of the thousands of Jamaican women who have produced this oil throughout the years. This results in the production of the finest natural Castor oil in Jamaica.