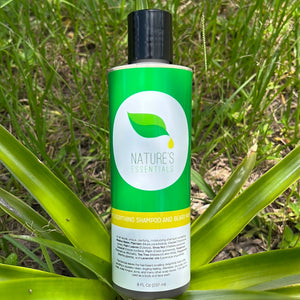 An all natural, unique, clarifying, moisturizing shampoo containing Alkaline Water, Plantain (Musa paradisiaca), Cocoa (Theobroma cacao), Palm Leaves (Euterpe), Shea Nut (Vitellaria paradoxa), Coconut (Cocos nucifera), Palm (Elaeis guineensis), Rosemary (Rosmarinus officinalis), Tea Tree (Melaleuca alternifolia), Peppermint (Mentha piperita), and Lavender oils (Lavandula angustifolia). This formula leaves the hair/beard smelling delightfully fresh while providing a squeaky-clean, tingling feeling. Alleviates, dry scalp, itchy scalp, scalp fungus, acne, and many other scalp issues. *Can also be used as a body and face wash. 
Directions: 
1. Wet hair/beard thoroughly. 
2. Place a quarter sized amount of shampoo in hands. 
3. Lather hair/beard. 
4. Rinse hair/beard 
5. Repeat steps 1-4 
6. Enjoy the fresh, clean feeling.